MyNordstrom.
MyNordstrom Login – www.Mynordstrom.com Employee Login.
Sign in to your Nordstrom Employee account and view your schedule, payslips and benefits in seconds.
About MyNordstrom.
Mynordstrom is Nordstrom's official employee portal. If you are a current Nordstrom employee, or you have just been hired at Nordstrom, then MyNordstrom is the online website, that you must access in order to view your up-coming work schedule, past payslips, benefit plans, or to change your contact details.
www.Mynordstrom.com.
The Mynordstrom portal was previously found at the www.Mynordstrom.com web address. However, due to security concerns, the website now re-directs to a secure address at https://directaccess.nordstrom.com/OA_HTML/AppsLogin.
You can safely enter "www.mynordstrom.com" in your internet browser and press Enter, however. You will be transfered to the new URL automatically.
As a new employee, you may find that the Nordstrom Employee Handbook and other learning material still refer to the old website.
Mynordstrom Login.
To sign in to your employee account at Mynordstrom, do the following:
Open your internet browser and type in "Mynordstrom.com" in the address bar, and press Enter. Alternatively, go directly to the Mynordstrom login page, https://directaccess.nordstrom.com/OA_HTML/AppsLogin.
Enter your Nordstrom Employee Number in the first box. The employee number will look like this (example):

4uv96v25.

Enter your Mynordstrom Password in the second box. Remember, that passwords are case-sensitive.
Click on "Login".
If you have forgotten your Mynordstrom password then click on  the "Request, Reset or Forgot Password" link to have instruction on how to reset your password sent to your email address on file.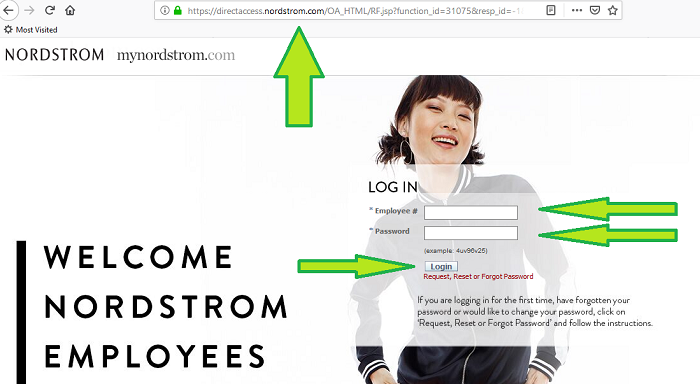 Mynordstrom Contacts.
To contact the My Nordstrom HR department, send an email to [email protected].
Alternatively, call the Nordstrom Headquarters on 1-206-628-2111.
Cannot log in to Mynordstrom? State your problem in the comment section.
More – Official Login Pages.
UK Login:
Mobile Login.
Email Login.
Create a New Email Account.
Thank You!
Welcome to www.LoginSecure.org, your free guide to account setup and login issues.